Biomass: a renewable resource with promise
By Bob "Hot Rod" Rohr
Biomass can be converted to energy in a number of ways: combust it or via chemical and thermochemical and biological conversions − think about generating biodiesel or gas from garbage decomposition. Truth be known, up until the mid-1880s, biomass was the primary fuel source for heating buildings.
For this article, we will stick with the combustion conversion or burning stuff that lights off easily including wood, forest byproducts such as sawdust, chips, beetle kill timber, grass, and so on. Perhaps the simplest of all heating methods is to start a fire and stand by. Or put the fire inside a steel or cast-iron stove to make the process a bit more civilized inside. There is a pretty good supply of wood available for cheap or free. I see dumpster loads of framing lumber scraps going into the landfill in my area on a daily basis. This kiln dried lumber is a great fuel source. You don't even need to wait for the moisture levels to drop.
Wood and coal burning got a bad rep mainly due to the emissions and related health concerns. Burning green, wet, or oxygen-starved fires leads to all sorts of problems for the planet at large.
I'd imagine we have all witnessed a smoldering wood fire, inside or out, blanketing the downstream residents in a cloud of smelly smoke. I know many have experienced this with the wildfire season in full swing in North America currently. Can we or should we, pursue this energy source again on a cleaner or maybe larger scale?
High fuel content grass
Travel to the ISH show in Germany and you will see several halls dedicated to biomass equipment. This equipment ranges from a basic parlour wood stove to a more sophisticated pellet-burning, automatically controlled boiler. On my last trip to ISH, I even spotted a "stove" large enough to swallow a large round bale of hay or grass such as those you see in farmers' fields.
The manufacturer claimed fast-growing high fuel content grass is grown to feed the behemoths. Load the beast once a day with a tractor equipped with a bale spike, throw in a match and away you go. At the other end of the spectrum, you may see residential pellet heaters not much larger than a small suitcase for small homes or living room spot heating.
Over the years the authorities in charge have clamped down on the emissions from burning biomass. Equipment manufacturers stepped up their game and developed gasification equipment to burn cleaner and more efficiently. Basically, gasification involves forcing additional oxygen into the combustion chamber, raising the temperatures to 1400⁰F to 1700⁰F, to essentially burn more biomass. This reduces the emissions and squeezes an additional amount of energy conversion.
You may see dozens, perhaps hundreds, of gasification wood and pellet burners for residential applications at the ISH show. This equipment is a bit more finicky to operate. Dry wood is required, and cleaning and ash removal is a constant task to keep them running efficiently. This market is driven by rural areas in Europe which have a fuel source nearby, such as a forest.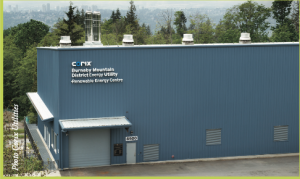 Biomass was selected for the Burnaby Mountain District Energy Utility to meet the capacity and higher temperature requirements of Simon Fraser University's Campus district energy system. The Renewable Energy Centre utilizes locally-sourced wood waste, such as wood chips, shavings, urban and clean construction wood waste that has been banned from Metro Vancouver landfills since 2015. The 13.5 MWt biomass boiler provides an estimated 85 per cent of annual energy demand for the system with natural gas boilers providing peaking and back-up.
Feed multiple homes and buildings
With today's hectic lifestyles, burning wood coal or pellets may not be in store for the masses. Dense population areas frown on solid fuel burners, and limited access to the wood or pellets in a city setting may also make the numbers
look not so great. I'd venture that most people want to hit a button and have reliable and accurate heat appear.
My thought is to take biomass to a much larger scale. A district system can feed multiple homes and buildings. This is not a new concept. As an example, the district energy system in use in Copenhagen, Denmark was initiated in the 1920s. Scaled biomass systems are gaining popularity again as fossil fuel prices continue to climb. Fuel shortages get one's attention quickly, also. So, in areas where a fuel source is readily available, and you can easily pipe a heated fluid through the streets of a town, this could be a big win.
I visited a few district systems in Italy a number of years back. One involved a large thermal solar array, a biomass burner and a few oil-fired boilers as back up. So, it is a triple fuel system. This was in an apartment complex that was under construction. Insulated underground PEX tubing was the umbilical cord connecting the various buildings to the "powerhouse." This project was well within the scope of a typical hydronic- savvy plumbing/heating company, anywhere in North America.
District energy systems exist already in some of the larger cities for transporting steam, heated or chilled water. Toronto, for example, pulls water from the lake for cooling downtown buildings. Infrastructure is in place to possibly share with heating input.
You could think locally and design and build a biomass-fueled system for your own buildings, your neighbourhood, your town, or … well, the sky is the limit.
Growing willows for energy
FACT: A planted willow cutting will start growing roots and shoots in the first three to five weeks. By week 10 the plant will be 30cm to 70cm tall and by week 15, it can reach heights of 160 cm to 200cm+. Bionera Resources
Bob "Hot Rod" Rohr has been a plumbing, radiant heat and solar contractor and installer for 30+ years. A long-time columnist, Bob is involved with training and education at Caleffi North America. You can reach him at [email protected]