By Carolyn Cooper
In the September/October 2021 issue of Mechanical Business we looked at the challenges women working in the skilled trades face when finding workwear and personal protective equipment (PPE) that fit and function the way they should. We're revisiting the topic to find out what's changed in the past two years.
Women on the job
In November 2022 the CSA Group released Canadian Women's Experiences with Personal Protective Equipment in the Workplace, a report outlining the problems women in the skilled trades have sourcing properly fitting PPE and clothing. Based on expert research plus input from approximately 3,000 women, the report revealed that women continue to be "differentially impacted by workplace hazards" due to poorly designed and fitted PPE and clothing.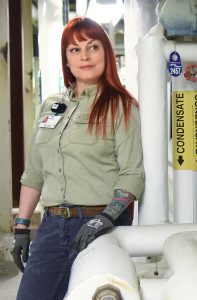 According to the report, the three most common problems facing women on the job when it comes to workwear is that "it does not fit properly, it is uncomfortable to wear, and the selection of women-specific PPE is inadequate." As a result, it found that women "use PPE that is the wrong size at least some of the time, they don't wear all the required PPE at work because of issues with fit, and they use a workaround to make their PPE fit," including using rubber bands, safety pins, and duct tape to shorten or secure clothing and gear. Unfortunately the report also found that nearly 40 per cent of respondents reported "an injury or incident that they perceived to be related to their PPE."
So, with more women entering the trades and highlighting the problem, are things changing? To some extent theyare, says Brandi Ferenc, an HVAC mechanic at Newmarket, ON's Southlake Regional Health Centre. "I have seen many new companies offering women's workwear, some of which were started by women who worked in the skilled trades and saw the need. Most work gloves now come in sizes to fit a women's hand, there are fall arrest harnesses designed for a women's body (cross body fit), and finally I see a variety of quality women's work boots that are not pink."
Juno Jones produces steel toe boots in a variety of colours and styles designed for working women. Founder and CEO Emily Soloby, a trained shoe maker and the owner of a heavy equipment and truck safety training firm, created Juno Jones when she couldn't find safety boots that were both stylish and functional. The company's newest launch is a composite toe boot that Soloby says customers have been asking for. "The Composite Toe Atlantis is a pull-on Chelsea boot with
ASTM certified safety toes, ASTM certified puncture resistant midsole, ASTM certified non-slip lug tread, and removable memory foam comfort insole," says Soloby, who is also host of Hazard Girls, a podcast covering the issues women face working in traditionally male-dominated industries.
PPE designed for women
Ferenc says that while uniforms and workwear are becoming more readily
available, PPE and specialty wear tailored to women are harder to find. "I would like to see a hard hat that is designed for a smaller head, although the ratchet knob allows the hard hat to be adjusted to a smaller diameter, the hard hat itself still tends to shift and move on a person with a smaller head. Regardless of gender we are all built differently and PPE manufacturers should offer a wider variety of options. And speaking as a woman who works on live electrical circuits for troubleshooting purposes, I would like to see more flame resistant (FR) products for women, specifically undergarments."
Melanie Adams agrees, which is why she founded Embher, Inc., a new brand of flame-resistant clothing for women. "Embher's Ensemble is a perfectly curated outfit consisting of three pieces – a long sleeved shirt, pair of pants and a utility vest. The long sleeved shirt is a soft and lightweight aramid FR fabric," says Adams. "The vest is perfect for spring/summer and provides the right coverage and functional pockets including a gas monitor holster."
Vancouver, BC's Helga Wear is another company making fire resistant clothing more female friendly. The company's Eileen Flyaways "are industrial wash grade FR safety coveralls, designed and constructed for women's morphology using women's body data, women's wear grading rules, and field tested with British Columbia tradeswomen," says founder, president and CEO Jodi Huettner, who experienced the challenges of ill-fitting workwear when she worked as an environmental engineer. The company also produces FR sports bras, sport briefs, sleeves and more.
Clothes that work
Morgan Dawson was also inspired to start her own company, Dawson Workwear, due to the frustration of not being able to find functional work clothing. While Dawson agrees that there seem to be more options available online for women, says she still struggles to find properly fitting gloves and safety vests, as well as fall protection.
"I would love to see companies provide these options for their women onsite. I have struggled with poorly fitting safety vests/harnesses and other PPE since entering the construction industry, and had to have properly fitting PPE special ordered, which took forever. With the increasing numbers of women in construction, companies need to have this PPE readily available for their female employees. As a 5'2" woman onsite, the M safety vest that was provided to me hung to mid-thigh length. When I was loaded up with tools in my vest, I had to unload everything to be able to move around properly," says Dawson.
Other companies are getting the message that PPE needs to be inclusive.
EllisDon, for example, recently launched a construction safety vest for women and gender-nonconforming individuals who may not fit traditional safety vests. "Traditional safety vests are not built to fit women or gender-nonconforming persons, and we wanted to change that," says Jennifer Khan, vice president of inclusive diversity. The company partnered with Toronto-based custom clothing maker Md/Safety Bespoke to produce the vests. "It is so important to feel like you belong in a workplace, and I know from personal experience what that can do mentally to you when you feel like you do not belong," says Safety BeSpoke COO Tess Durrant.
For Covergalls founder and CEO Alicia Woods, being fully inclusive means creating workwear that can be adjusted to changes in women's lives. It's the reason the Lively, ON-based company launched a maternity workwear collection. "I'm really excited for this new addition to our collection," says Woods. "So many women have had to create makeshift solutions due to lack of options and inaccessibility to proper PPE, myself being one. Creating maternity workwear that companies and suppliers can provide to their employees is a step in the right direction towards greater workplace equality."
Ferenc agrees: "First and foremost I look for quality workwear, I don't show up to work to look pretty, I do the same job as my male counterparts and I expect my clothes to work just as hard as I do."