Dave Hughes wins Carlson-Holohan Industry Award of Excellence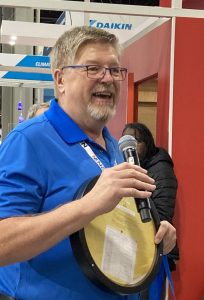 Dave Hughes is the 2022-2023 recipient of the Carlson-Holohan Industry Award of Excellence. Hughes is  technical advisor, codes and standards, for the Canadian Institute of Plumbing and Heating (CIPH).
Hughes was recognized with the award during a presentation on February 6 hosted by Caleffi North America at the AHR Expo in Atlanta, GA. The 2020-2022 recipient, Bob "Hot Rod" Rohr, training and education manager at Caleffi and a Mechanical Business columnist, presented Hughes with a replica of a Bell & Gossett System Syzer wheel, a circular slide rule which calculates the relationship between flow rate, temperature change and heat transfer rate.
The award is presented every two years to a nominee with attributes including technical mastery and a passion for hydronic technologies, demonstrated leadership as an educator and mentor, and an aptitude for cultivating fundraising opportunities for industry causes.