Achieving outdoor air compliance
By Ben Moore & Nick Agopian
Twenty years ago, commercial and light commercial HVAC rooftop units (RTU) were commonly specified with economizers for energy-efficient outdoor air. Today however, trends point toward energy recovery ventilators (ERV) and dedicated outdoor air systems (DOAS) for outdoor air compliance. Economizers have been popular for decades, because they bring in outdoor air when ambient climate conditions are conducive to indoor air comfort temperature/humidity set points.
ERVs and DOAS enable outdoor air during nearly any climatic conditions. They efficiently use energy recovery from exhaust air to preheat or precool the incoming outdoor air. Consequently, ERV/DOAS popularity has grown as specifiers gain confidence that some equipment using static plate enthalpy cores can operate in Canada's extreme winter temperatures.
Core-based ERVs and DOAS can operate down to -23°C (-10°F) without requiring electric defrost cycles. If temperatures drop lower, outdoor air can be reduced or return air can be used to warm the cores. Furthermore, cores don't freeze, because they deal with moisture in a vapour state, thus they don't require drain pans and condensate lines.
Buildings with ERV/DOAS equipment can transition beyond normal outdoor air operating codes to 100 per cent outdoor air when pathogens such as COVID-19 are prevalent. This dilution strategy, which is recommended by ASHRAE, was executed during the recent pandemic in many buildings with ERV/DOAS capabilities.
To prepare for future pandemics or just annual influenza or common colds, industry manufacturers have been encouraging engineers and contractors to specify ERVs and DOAS up to 20- to 30-per cent larger than what ASHRAE Standard 62.1–Ventilation for Acceptable Indoor Air Quality calculations recommended five years ago. That percentage is a starting point and there are no restrictions for specifying even larger outdoor air capacities. Unlike furnaces and air conditioners, oversizing ERV/DOAS won't decrease efficiency.
Depending on the province, the ventilation and energy requirements stated in the National Building Code of Canada (and also influenced by Canada's Green Energy Code) are indirectly based on ASHRAE 62.1 and ASHRAE 90.1–Energy Standard for Buildings, Except Low-Rise Residential Buildings. For example, the required ventilation of the Ontario Building Code, Section 6.2.2.1 refers to ASHRAE 62.1.
A recent proposal to codes in Canada is that HVAC projects which surpass 1,200 CFM should be outfitted with some type of energy recovery equipment. Sizing has been simplified by manufacturers with proprietary software calculations that culminate with projected energy savings and return on investment (ROI). Specifiers need only the CFMs, static pressure and the outdoor air ratio to receive sizing information for heating and cooling loads.
The NBCC accepts both ERVs and heat recovery ventilators (HRVs), the latter of which has been a Canadian staple since the 1990s. Each methodology has its own advantages. Both are excellent energy savers during winter operation. Today, the technologies' costs are similar.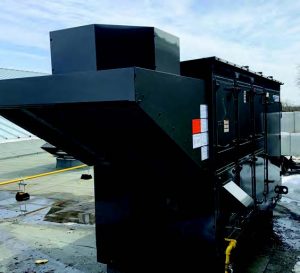 From a contractor standpoint, ERV/DOAS equipment maintenance consists of annual or semi-annual vacuuming of the static enthalpy core media, which have lifespans up to 20 years. Maintaining comfortable RH levels and recovering energy year-round may override cost differences between the technologies. Furthermore, the installation cost disparity typically offsets capital cost differences when considering sizing requirements and defrost times. Finally, ERVs don't condense, therefore condensate drain installation is eliminated.
COMMERCIAL ERV DUCTING TIPS:
Don't locate an ERV air intake too close to a contaminating source, such as a kitchen exhaust, idling vehicle area, dryer vent or a gas meter, the latter of which has potential to leak or vent
During a ERV defrost cycle, with exhaust only feature, the building could become negative which can be an issue with combustion equipment
Locate the air intake a minimum of one foot above the geographical area's projected snow line and protect it with a pest screen
It's a good practice to use the optional damper model recommended by most ERV manufacturers for their respective equipment
Fresh air duct and exhaust air duct connected to the exterior should have thermal insulation with vapour barrier on the exterior wall of the duct
Connections and exterior wall penetrations need sealing. In addition, vents/ louvers should have bird screens to prevent animals from entering
Ventilation Codes
While guidelines may vary per province, Ontario's ventilation performance is guided by the Ontario Building Code (OBC), Supplement SB-10, which refers to ASHRAE 90.1-2010 & ASHRAE-2013. Compliance with requirements in the OBC for energy efficiency of buildings within the scope of Part 3 and Buildings of Non-residential Occupancy within the scope of Part 9 can be achieved through adherence to requirements set out in:
ANSI/ASHRAE/IES Standard 90.1-2013 + SB-10 Division 3 Chapter 2 Prescriptive Path
CCBFC NRCC 56191, 2015 National Energy Code of Canada for Buildings + SB-10, Division 3, Chapter, 3 Prescriptive + Performance Paths
ANSI/ASHRAE/USGBC/IES Standard 189.1-2014, "Standard for the Design of High-Performance Green Buildings Except for Low-Rise Residential Buildings" Performance Path – Modelling Required
ASHRAE 90.1-2010 + SB-10 Chapter 2 + 13% Performance Path – Modelling Required
National Energy Code for Buildings 2011 (NECB) + SB-10 Chapter 3 + 13% Performance Path – Modelling Required
ASHRAE 90.1-2010 + 5% + 13% Performance Path – Modelling Required
In comparison, Quebec added Chapter I.1 (Efficacité énergétique du bâtiment) in the Quebec Building Code on June 27, 2020 where the transitionary period ended on December 27, 2021. Under Section 5.2.10.1, when the amount of sensible heat exhausted exceeds 50kW, the system must have heat recovery or energy recovery technology. The sensible efficiency must be at least 60 per cent.
Contribution to building certifications
ERV/DOAS equipment can help LEED projects gain credits. Another building certification, the WELL Building Standard (WELL) by the International WELL Building Institute is gaining traction with more than 2,000 certified Canadian projects. WELL is a performance-based system geared toward comprehensive occupant health, safety and well-being. An annual review is required to continue displaying the WELL Health Safety Seal emblem demonstrating the facility is performing to original certification requirements. HVAC and indoor air quality via outdoor air induction is a significant factor in WELL's building performance standard. Applicants earn one or two points under the "enhanced ventilation category" by increasing outdoor air by 30 per cent and 60 per cent over ASHRAE 62.1-2010 recommendations to help attain gold, silver, or platinum certifications. WELL also offers three points if you maintain 750-PPM of CO2, which would require 100 per cent more air than the minimum.