Kitchen Trends: Form & Function
Kitchens have always been the centre of family life, especially over the past two years as people found themselves spending more time at home due to pandemic restrictions. Many consumers upped the comfort level, and diverted savings normally spent on outside entertainment to fund dream kitchen renovations.
"A majority of Canadian homeowners state that kitchen renovations are the top home improvement project they want to invest in," says Kenana Al Yakobi, brand manager for Pfister Canada. "People want their spaces to be beautiful and functional at the same time." In fact, a recent RE/MAX Canada survey found that 29 per cent of Canadians who renovated their homes in 2020 and 2021 did so simply to enhance their lifestyle for nonessential reasons such as aesthetics. Sales of luxury kitchen fixtures are high for the same reason, as consumers increasingly look for unique products that reflect their personal values and creativity.
The House of Rohl's Key Interior Design Trends For 2021 And Beyond, reveals that 47 per cent of consumers are "willing to spend more money on home renovation than they would have in the past to achieve a lavish home environment." Eveline Simard, the company's principal industrial designer, adds "as consumers spent time indoors, they have experienced firsthand the importance of the home and are now willing to transform their space to reflect a need for a more stylized residence. The motivation to renovate in this manner, and with a higher budget, likely means we will be seeing consumers choose higher-quality materials, enlist the help of an interior designer or opt for luxury brands."
THE LUXURY CUSTOMER
The National Kitchen and Bathroom Association's (NKBA) 2021 Luxury Kitchens report found that consumers looking for luxury fixtures are discerning, collaborative and outcome-driven, and they value and trust professional expertise. "Luxury clients want both form and function, beauty and performance, materials and efficiency." NKBA defines the luxury investment as between $150,000 and $600,000, but notes that creating a luxury kitchen isn't necessarily about cost, it's about creating a personalized experience with simplicity and harmony, that includes unique and artisan-style touches. And while they are mindful of trends, luxury customers are motivated by the idea that they are about tailoring the look, feel and function of their kitchen to their exact lifestyle and life stage.
HYGIENE AND HIGH TECH
The NKBA's Design Trends 2022 Report shows that kitchen trends will be increasingly influenced by millennial consumers and their interests in sustainability and energy efficiency. Over the next year, "nature-inspired themes continue to grow stronger, bolder colours gain more traction, and easy-to-clean spaces are key." The report also notes that consumers will increasingly want spaces that are multipurpose, and which include technology. While technology integration is still limited, with only 30 per cent of kitchen projects currently incorporating integrated technology, the pandemic gave a boost to no-touch and voice-activated kitchen technology such as faucets, with the report noting that "the pandemic-generated trend towards cleanliness and safety is not expected to fade away anytime soon."
MINIMALISM AND MORE
Hand-in-hand with the demand for hygiene is the trend towards minimalist design, clean lines and simple fixtures. Dramatic matte black and sleek chrome fixtures become the centre of attention in minimalist kitchens, especially when customized to consumers' personal tastes.
Pfister sees "dark and minimalistic kitchens that are bold and dramatic," making a return, with "black or grey cabinetry and dark natural stone countertops that will feel elegant and timeless. Mixing various materials in one  space is another trend to look out for in 2022. Designers love to mix natural wood tones and stone with metallic accents."
American Standard suggests combining the best of both worlds. Transitional style blends the comfort and warmth of traditional, classic designs, with the clean profiles and neutral colours of contemporary style. Design elements can include subtle colours, marble or quartz countertops, natural wood accents, clean-lined accessories and furniture.
Natural elements such as wood are even being incorporated into faucet handles, and the NKBA says the organic/natural look is now the second most popular kitchen style behind transitional, which combines traditional and modern looks. White, off-white and other layered neutrals are still the top colour choices for luxury kitchens, although the influence of nature is beginning to show in greens and blues for backsplashes, kitchen cabinets and walls. Danielle DeBoe Harper, senior creative style manager for Moen, agrees that the natural environment has had a huge impact on kitchen design in the past 18 months as consumers seek to create a serene space with natural elements and materials such as wood, glass and stone. "Biophilia is the human desire to commune with nature. This means adding more architectural elements like larger windows and doorways, or adding an outdoor kitchen. This trend pushes us to blend the boundaries of indoor and outdoor spaces," says DeBoe Harper.
CUSTOMIZED CHOICES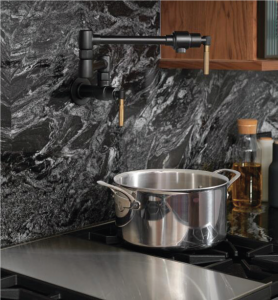 While minimalism is growing, so is "maximalism" and personal expression, says DeBoe Harper. "Maximalism isn't for those who like to play it safe. It's about showcasing your self-confidence and creativity. Often, this trend is associated with a luxe aesthetic, laying in elements that have a perceived higher value or unique quality to them."
A sense of playfulness and pops of bold colour are appealing to pandemic-weary consumers looking for elements that add to holistic home health. "Homeowners are gravitating towards making these more functional spaces into ones which are also incredibly beautiful, with decor elements that add visual appeal and reflect their own personal aesthetic," says DeBoe Harper.
At the same time, luxury customers are adding customized extras that make their lives easier. That includes professional elements such as pot fillers, food waste disposers, as well as matching kitchen fixtures such as glass washers and soap dispensers. "When it comes to fixtures, consumers want products that offer elegant detailing, strikingly innovative form and finishes also are a huge factor that impact purchasing decisions," says Andrea Goertz, senior product manager of fashion plumbing at Masco Canada.
"Gold and black are two of the latest colour trends we've seen. Finishes such as champagne bronze and luxe gold provide warmth, sophistication, and elegance, while matte black creates contrast and a minimalist feel. Together, they are a perfect marriage of classic and modern design," she says. "Many of our Brizo and Delta Collections offer a variety of black, gold and copper finishes to help customers achieve this desired look, making sure there's something for every room and every aesthetic."