By Andrew Quattrociocchi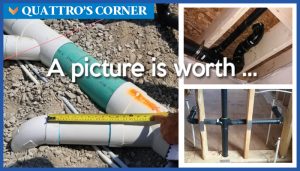 Time to change it up! Its quiz time for this edition of Quattro's Corner. Do you have what it takes to spot the mistake? I think you do. If you don't, you're bound to learn something through the following exercises and questions. Hopefully you make a habit of reading Quattro's Corner. If you do, this should be a breeze. I have provided what I think is the easiest way to correct the deficiency but as the old saying goes, you could give the same job to five different plumbers and it would be completed five different ways.
Examples accompanied by photos help familiarize code requirements, particularly when training building officials and plumbers. These are real life examples of what to look for when conducting plumbing inspections or installing plumbing systems and show some of the most common deficiencies I find in the field when inspecting plumbing.
Answer:
No, as per Table 7.2.4.5. This fitting can be used for venting only. It would be deemed acceptable if the vertical portion is three inches or larger.
The fix:
A simple double T fitting can easily be installed. When looking at Table 7.2.4.5., fitting number 8 would be an acceptable installation. The fitting could also be changed to a 3 x1 ½ x1 ½ double TY but that is not as practical and cost efficient for the plumber.
Answer:
No, as per 7.5.6.3.(2) A vent pipe that protects the trap arm of a water closet shall not have a cumulative change of direction of more than 225 degrees (90+90+90=270°).
The fix:
The simple fix would be to turn the second 90-degree elbow on a 45-degree angle and remove the most downstream 90 and install a 45-degree elbow. This would bring the installation into code compliance and within the required 225-degree requirement. The vent pipe could also be moved within the first and second 90, however it looks as if the plumber does not have sufficient room to accommodate this.
Answer:
As per Table 7.5.6.3. the maximum trap arm length cannot exceed 1.8 m. Also, as per 7.5.6.2.(2) except for wet vents, when a vent pipe is connected to a nominally horizontal soil or waste pipe the connection shall be above the horizontal centreline of the soil or waste pipe. 
The fix:
This is one of the easiest deficiencies to correct. Fitting manufacturers put notches on all of their fittings. These notches indicate 45 degrees. Plumbers and inspectors should use these notches to their advantage. The simple install would be to use a TY fitting with a fitting 45 (hub by spigot) inserted into the middle portion of the TY. This will guarantee you get above that horizontal centreline and pass inspection every time.
Answer:
First, the sanitary TY on the two compartments is not permitted as it is not being used to connect a vent pipe in accordance with table 7.2.4.5. Second, the trap for this sink should be a minimum of two inches. As per 7.4.9.3.(2) the part of a fixture outlet pipe that is common to three compartments of a sink shall be one size larger than the largest fixture outlet pipe of the connection that it serves. Also, the vent pipe connection is not installed above the flood level rim of the fixture it serves as per the requirements of 7.5.6.4. Except for a wet vent, every vent pipe shall extend the flood level rim of every fixture it serves before being connected to another vent pipe.
The fix:
This is a bit more complicated as the grease interceptor is installed in a location that isn't ideal. The grease interceptor should be moved to another location to provide sufficient space under the sink. It allows for an easy install if this is done. The use of a Y fitting on the second compartment would fix the TY problem. The most downstream TY can easily be changed to a 2 x 1 ½ x 1 ½ TY and a two-inch trap installed. In my opinion, the inspector failed on this one. The undersized pipe should have been caught at the rough-in stage. Not at final. The same goes for the vent pipe connection − this should have been caught at rough-in.
Answer:
As per 7.5.1.1.(3), a trap that serves a floor drain or hub drain need not be protected by a vent pipe separately where, the size of the trap is not less than three inches, the fall on the fixture drain does not exceed its size, the trap is connected to a horizontal drainage pipe that terminates at its upstream end in a three-inch stack, the length of the fixture drain is not less than 450 mm. Close but no cigar: this pipe must be a minimum of 450 mm.
The fix:
Extending the trap arm of the floor drain to 18 in. would solve this code violation. Either installing the Y fitting further downstream to accommodate this or possibly install an offset with 45-degree elbow right up until you hit 450 mm. P-traps can swivel. Use this to your advantage to stretch that trap to gain a few more inches.