By: Anny Ang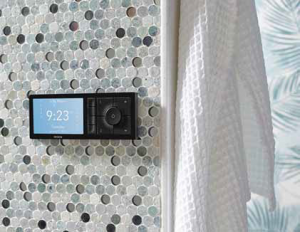 Now more than ever, homeowners are turning to smart home products to make their spaces more enjoyable and their lives a bit easier. According to a recent survey, just over a quarter of Canadians (27 per cent) currently own at least one piece of smart home technology, with 78 per cent of respondents saying they plan to purchase even more smart home technology within the next year.
What does this mean for trade professionals? With the growing popularity of smart home products comes a serious need for skilled technicians who can install them. And, as the internet of things continues to expand, it's likely that familiarity with smart home products may quickly change from a "nice to have" to a "must-have." When homeowners are making a hiring decision, they will be looking to companies who are familiar and skilled at installing these devices.
Understanding the smart home product landscape
Smart home products are generally defined as items in the home that connect via a network – such as Wi-Fi or Bluetooth – and offer some element of automation. While there are many types of smart home products, from thermostats to Wi-Fi connected lightbulbs and more – one of the fastest-growing categories is smart plumbing. Smart plumbing products allow to experience whole-home water management from the palm of their hands and include offerings such as smart leak detection systems, smart kitchen faucets, and smart showers, all of which can be controlled from a mobile app.
The demand for smart plumbing continues to increase because of the myriad benefits these products offer homeowners. Whole-home monitoring and leak detection systems give users peace of mind by helping to prevent leaks and potentially catastrophic water damage, as well as helping monitor, control and conserve water 24/7. Select smart faucets can dispense precise measurements and temperatures, while smart showers provide the opportunity to customize your showering experience. Why should the pro care? Because as homeowners continue to desire these products, plumbers have even more opportunities to enhance their business.
Where do leaks typically occur?
The growing market for smart plumbing products provides an exciting opportunity for plumbers to expand their business into a new category. First, by becoming comfortable installing and servicing smart products, plumbers can show their customers that they are catering to their desires. It's also a great marketing tool, giving plumbers a way to show customers they are up to date with the latest industry trends and technologies.
Next, smart products provide the opportunity for professionals to upsell their customers on upgraded products and systems, as smart products typically sell for a higher price point than their non-connected counterparts This can potentially lead to a higher fee for installation, as well. Renovations are a great time to encourage customers to install a whole-home water security solution, including leak detectors, kitchen faucets and showers, but these products are also an easy upgrade for homeowners not planning any home improvement projects.
By educating their customers on the many conveniences smart plumbing products offer, professionals can find several opportunities to increase sales margins and provide real value to clients. Once a consumer installs a smart home plumbing product and experiences their benefits, this can open the door to further upgrades and more business, as well.
Not only do plumbers have the opportunity to earn increased income through installing smart products, they also may benefit from any maintenance and troubleshooting for these products. For example, smart leak detection products are installed for the purpose of detecting leaks. If one is found, there is a need to hire a plumber, providing additional business.
There's also the opportunity to gain business by becoming a certified installer for certain products. Some companies who carry smart home products have networks of installers that are specially trained in the installation of those products, and they direct leads to plumbers in their networks. This allows plumbers to have access to more customers, expand their product offerings, and also gain access to a network of training information.
Training and troubleshooting
Given the relative newness of smart home products, some plumbers may worry that they aren't properly trained to install them. Luckily, there are plenty of certifications and professional networks available to educate plumbers on how to install and sell smart plumbing products. In fact, some leading plumbing companies provide free training and certifications, so professionals can ensure they are well equipped when installing. Training often includes access to databases specifically for plumbers and installers with additional resources like installation guides, FAQs and helplines or live chat features.
Another way for plumbers to keep installation easy is to recommend and choose quality smart home products. The best smart plumbing offerings have been designed with both the installer and homeowner in mind, offering features that make installation simple. For example, some smart leak detection products come equipped with measuring tools to determine how much of the water line needs to be cut during installation, and also offer spacers which can help to pre-plumb a home in preparation for a smart water valve later down the line.
Finally, connection to Wi-Fi and the cloud also makes installation and troubleshooting easy. Plumbing companies can push out updates to help fix bugs and provide necessary updates, helping solve problems seamlessly in real-time.
Ultimately, smart plumbing products are a smart choice for plumbing professionals looking to expand their business as well as offer additional value to customers. Taking the time now to become comfortable installing and recommending these types of products will provide incredible benefits to business both now and in the future.