Drilling finished on Ontario's tallest geothermal-powered condo
In early April developer Camrost Felcorp announced it had completed drilling of 186 geothermal boreholes to provide an alternative energy source at its Exchange District mixed-use community in Mississauga, ON.
The geothermal heating and cooling system will supply off-grid energy to a planned boutique hotel and two of the community's four towers, the rental tower and the 650-suite, 66-storey EX3 condominium tower, making the latter Ontario's tallest geothermal-powered residential development.
The low-carbon energy system is being built in partnership with mechanical engineering firm Integral Group, and geothermal energy service provider Diverso Energy, and eliminates the need for natural gas, heating boilers and rooftop cooling towers. Diverso co-founder and partner Jon Mesquita says the company has worked with "several real estate developers across the Greater Toronto Area in the last few years, helping them meet ever increasing new energy and carbon targets and purchaser demands for energy efficiency."
According to Camrost Felcorp, the Exchange District will feature more than two million sq. ft. of retail, shopping, dining, office and commercial space, as well as public parks and open space. It will also include other innovative and environmentally friendly technologies, such as Mitsubishi Electric's variable refrigerant flow system. The system provides an HVAC solution in multi-residential towers, allowing for better zoned thermal control and greater overall efficiency.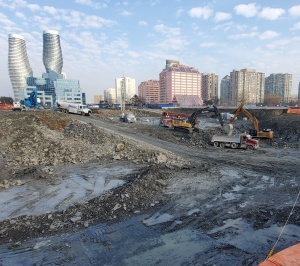 "The Exchange District is an award-winning community, celebrated for its careful urban planning, distinctive architecture, and smart design," says Joseph Feldman, vice president of development at Camrost Felcorp. "But in today's real estate environment, we understand that those attributes are simply not enough for our market. Purchasers, renters, retailers and those who care about creating great communities, all agree that today's communities must also be environmentally sensitive, sustainable and conscientious."
The next phase of the project is shoring and excavation. The first building is expected to be complete by the end of 2023, while the entire community is scheduled for completion in 2026.