It's Hammer Time at CMPX 2020!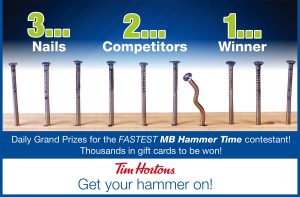 Mechanical Business is running a fun contest at this year's CMPX Show, and we have a prize with your name on it (well, Tim Horton's name, actually, but you can still have a prize if you take part).
Featuring three nails, one hammer, and you, MB Hammer Time invites show attendees to try their luck at being the fastest to hammer three nails into a six-foot-long plank at the Mechanical Business booth (N22) from March 25 to 27. Contestants will be timed as they try to set the "Time to Beat" to become the daily winner. Up to two contestants can play simultaneously and there is a daily grand prize winner each day of the show.
Here's the best part. At MB Hammer Time, everyone who plays comes out a winner! Thousands of dollars of $5 to $20 Tim Horton's cards and other prizes will be given away courtesy of our contest partners and sponsors!
So, as the CMPX show comes into view, get those arms limbered up and get ready to drop the hammer at CMPX 2020!
For more information about the show, visit cmpxshow.ca.